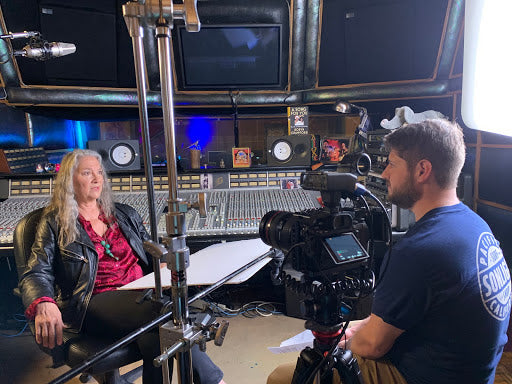 A Look Back at March
FINDING INSPIRATION
A few weeks ago, we sat down with Heidi Kühn about her beautiful new book. Breaking Ground is a captivating memoir about one woman's journey of healing, and her relentless mission to replace war-torn lands with fertile, sustainable farmlands.
"Thank you, Heidi Kühn . . . for your work healing war-torn communities by turning these fields into productive farmland to grow and sell crops on the global market. Your steadfast dedication to securing peace and ensuring economic empowerment for so many is critical and greatly appreciated." 
— Nancy Pelosi, Speaker of the US House of Representatives
Through recalling her journey, Heidi reveals the remarkable change an ordinary person can inspire. Her story is one of faith, healing, and the compassion needed to grow a more peaceful world. Breaking Ground will encourage you to do the extraordinary and help plant the seeds of change for a brighter future. 
Order the book, out now!
A BACKSTAGE LOOK
We also sat down with Linda Wolf, one of the first female rock and roll photographers, and the photographer behind Tribute: Cocker Power. 
Tribute: Cocker Power features exclusive, never-before-seen documentary photos, stories, and vignettes from both the Joe Cocker Mad Dogs & Englishmen Tour, and the 2015 tribute concert at the Lockn' Festival with Tedeschi Trucks Band and the original tour alumni. 
This visually stunning volume includes contributions from over one hundred musicians and crew members, including Leon Russell, Chris Stainton, Rita Coolidge, Claudia Lennear, Derek Trucks, and many more. A true labor of love to all who played a part in these exceptional times in the history of music and culture, and to everyone, collectively, who played their part in making it all happen, Tribute: Cocker Power is a must-have for devoted fans and newcomers alike. 
Stay tuned for an announcement of a star-studded online book launch event in late April, featuring members of the original Mad Dogs & Englishmen tour. Order the book, out now.
FANTASTIC FUNGI DAY
On March 26, Fantastic Fungi Day celebrated the Fantastic Fungi film. Shown around the world, and followed by a conversation with award-winning Director Louie Schwartzberg, renowned Mycologist Paul Stamets and other special guests.
"An awe-inspiring journey through the explicit, little-known realm of fungi and its amazing potential to positively influence our lives." – BookAuthority.org
If you missed Fantastic Fungi Day, you can still order your copy of the book HERE.
Sign up now so you don't miss our future newsletters!